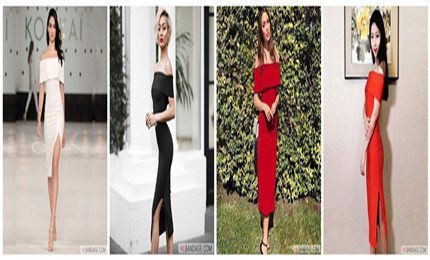 Put on the Bandage Dress Second Change Goddess
Thursday, 24 August 2017

3

806

0
Do not let yourself miss a pleasing opportunity. Putting on the the Bandage Dress second change of the goddess, then your temperament will be enhanced instantly. So you pocketed the rate!
Style:
Fashion
&
Elegant & Noble and High Quality
1.Features:
1)Very beautiful and elegant bandage dress
2)Medium weight rayon to create, the material is extremely beautiful show, slash neck off shoulder highlight clavicle, the design of split the fork highlight youth sexy feminine.

2. Four bright spots
1) Slim three-dimensional cut ( the graceful body perfect to attract the eye)
2) High-quality rayon fabric ( medium weight rayon, feel soft, skin-friendly breathable)
3)Slash neck off shoulder fork design ( leakage of a little bit of fragrant shoulder to reveal sexy clavicle line, open the fork more prominent legs slender, add feminine)
4) Temperament elegant tone ( with a thick romantic atmosphere of apricot powder sent a sweet feminine)
3.Work and quality
1)Good fabric is very important! ( the new definition of dress image and the traditional fabric is abandoned instead of using high-quality fabric. Its unique plastic self-cultivation effect and fabric elasticity, which brought about the tolerance and comfort. There will be no sense of restraint about general dress, and a dress feast is waiting for you.)
2)Fine craft and superior quality ( with advanced clothing production equipment and excellent clothing designer, a needle line is the conscience of production, each piece of clothing have been no less than > 10 times to dress up the revision> 8 times the different version of the type of try> 12 Road Quality inspection process scale. )
4.Difference

1) Customized and top tailoring ( from Europe and the United States master tailoring experience customization process of high-end tailoring tailored luxury to enjoy.)
2) Temperament woman, especially Western style ( there are subtle Ladies wind and sexy slash neck off shoulder, destined to make you a field charming.)