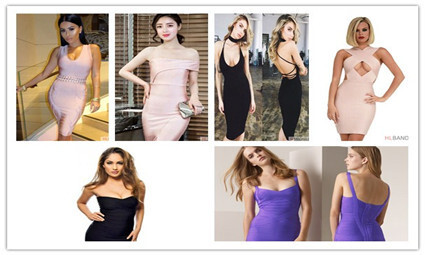 How to Choose the Right Bandage Dress
Friday, 18 August 2017

8

916

0
The perfect bandage dress can create a striking silhouette and highlight the features of the woman wearing it. This article sets out to help women of all shapes and sizes pick their perfectly suited bandage dress.
The key to finding that perfect bandage dress is to know your body type as the ideal bandage dress will balance out your proportions and help you to hide away those less flattering features.
If you are taller and have proper curves, then V neck bandage dresses are the best choice for you. These dresses are made with mainly poplin fabrics. These dresses are considered as body-hugging costumes. Our HLBANDAGE Dress feature a super flattering V neckline you will have no choice but to fall in love!You can choose these dresses for your night parties.

Though the keyhole bandage dress is quite similar to the halter necks, yet it manages to hold its own amongst women who have a small bust. The cute hole helps to highlight your cleavage subtly but surely. HLBANDAGE DRESS features sultry chest keyhole that is sure to grab the attention you deserve.

Shorter women should look for strapless bandage dresses which can create the illusion of longer looking legs. Fashion designers are developing new trends in the world of bandage dress as the feminine world prefers it. If you follow the latest magazines you can stay tuned with the latest style of clothing.

If you have proper breast size then, you can choose the halter neck style bandage dress for your party. Since it is incredibly effective in drawing attention to the centre of your body, hourglass body type women with tall, broad shoulders and well-toned arms look fabulous in it. Make your personality more sensuous with these costumes. Here are various colorful bandage style costumes available in the market for women. If you do a little research on this style, you can get several garment dealers at your nearby area who sell attractive halter bandage dresses. These dresses mainly come in knee length.

Whenever you are in the mood for some drama, the off shoulder bandage dress will be your friend. If you are a pear body type woman or someone with thin arms, a long neck and narrow shoulders, this one is tailored just for you. Add some ruffles and you will achieve the required fullness while being attractive. HLBANDAGE DRESS is perfect for most special occasions such as a races event, kitchen tea, and other semi-formal/formal cocktail parties.

Are you a lady with a large bust? Your day is finally here! Since the sweetheart collar bandage dress cups your breasts with two curvy flaps in the shape of cute little hearts, you can accentuate your cleavage with a lot of room left for you to breathe in. It can create the illusion of curves.Your shoulders would be mostly bare so you can work around elongating your chubby face and giving it a more definite outline.

What you wear matters and gives you confidence in your body. To bring out the best of your personal features, choose a bandage dress according to your body type. Overall, always aim to give your body shape and feminine proportions such as defining your waistline.
Explore colors and accessories to enhance your best feminine proportion as well. When you look good, you feel good.